RD station: How to connect with Kommo
RD Station is a great tool for your marketing team and by connecting it to Kommo, your marketing and sales will be in sync. WIth this integration in place, when you capture leads from RD Station landing pages, they will automatically land in your Kommo pipeline. Linking your RD Station with Kommo can also help the marketing team assess performance — when a lead is won or lost, you can instantly send this information back to RD Station.

In this article, you will learn:
How to connect RD station
Note: To install the integration with Kommo, you need a valid RD station account. If you don't have one, you can create a free trial account here.
To install the widget, head over to Settings > Integrations > Forms section and select RD Station.

Read the privacy policy and tick the box to accept before clicking Install.
Next, log into your RD station account by clicking the 'Sign in' button.

Enter your account details, choose any company name and click connect.
Now, you are all set up! You will receive a message on your screen confirming that the app has successfully connected and you can go back and continue your work in Kommo.
How to use RD station integration
Integration with RD station lets you land the Landing page requests of the RD station as Incoming Leads in your Kommo account. When you install the integration, this feature starts working automatically, so you don't have to add it as a Lead source.
Note: Currently, you can connect your Landing pages only to the main pipeline.
Additionally, when you move leads created in this way to 'Win-Lost' stages, their status will also change inside your RD station account.
When someone submits a request to your Landing page, it will appear as a 'Lead' in your RD Station funnel.

The same new request from the Landing page appears as a new Incoming Lead in your main Kommo pipeline. You can take it to the next stage or just delete it by clicking the trash icon, if it is not your target audience.

When you move the lead to the Closed-Won stage of Kommo, it will be moved to the Client (Customer) stage of the RD station and is marked 'Opportunity'.

When you move the Landing page lead to the 'Closed-Lost' stage of the Kommo pipeline, it remains as Lead in RD station and if it was marked as 'Opportunity', it will be unmarked.
How to create a landing page in RD Station
To create a new landing page:
Log into your RD station account, go to the Home page, and select the Landing pages from the list of options.

If you have already created Landing pages, you can find them there. To create a new one, just click 'Create Landing Page'.

Select one of the design templates and name your new Landing page to start editing it.
Inside the editor, you can change the text, add new components from the left side menu and once everything is ready hit 'Save and Continue' to proceed to settings.
In settings you can add a redirect page, automatic email, thanks message and much more. When you finish configuring the settings, make sure you click 'Save and Continue'.
Finally, you can get the link to your new landing page. You can activate or deactivate it by enabling the toggle on and share the link to different channels right from the website.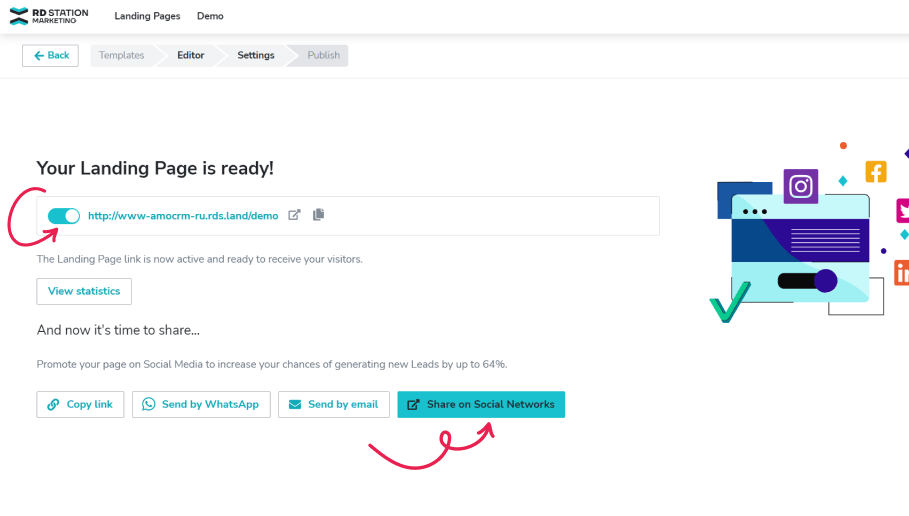 Need more help setting up or troubleshooting? Contact us by sending an email to support@kommo.com or write to us on Facebook.
Not a user yet? Visit our tour page or contact us for a demo.