Instagram: How to connect Instagram with Kommo
Take your business to the next level by connecting Kommo with the official Messenger API for Instagram. With this latest integration you can send messages, images, react to story mentions, use quick-reply buttons, and set up welcome messages — all within Kommo. Everything works in accordance with Instagram's rules and restrictions and you can rest assured that the integration is stable and risk-free for your Instagram account.
In this article, you will learn about:
Before you begin
Connection and setup
To connect the integration:
In Kommo, head over to Chats section > gear icon ⚙️ > Instagram

Click Install
Authorize your Facebook account

Important: Your Facebook account must have a primary email set and verified (read our step-by-step instructions).

Important note: The Instagram integration uses your Facebook account to log in. If you also use our Facebook integration (Messenger, Comments, Lead Ads Forms, Facebook Ads), it's important that you're logged in to both of the integrations using the same Facebook profile.

After logging in, Click the "+" button to select the Instagram Business account you'd like to connect. You will be able to select the one you need from your eligible Instagram Business accounts connected to your Facebook account in the dropdown menu shown.
Important note: The selection menu lists the names of the Facebook Business pages associated with Instagram accounts.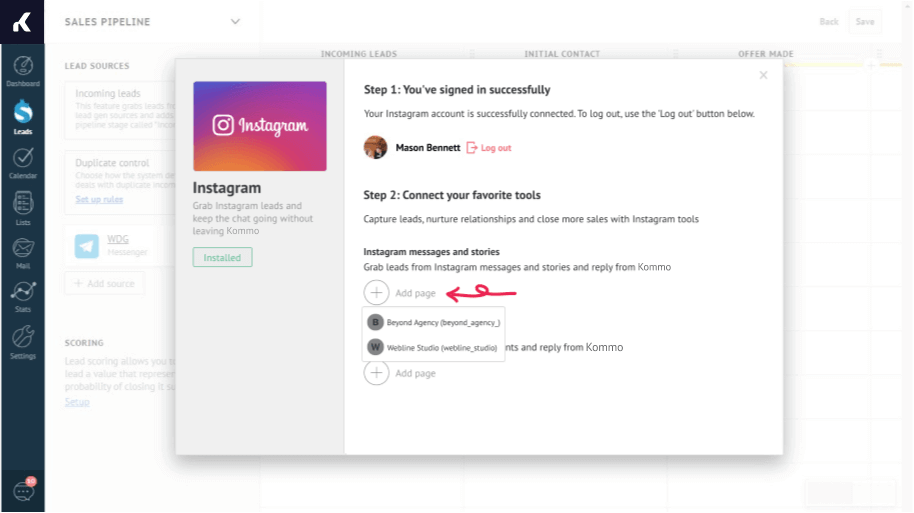 The integration is now complete, providing immediate access to messaging, Instagram Stories, and quick-reply buttons.
Instagram Comments
We've also added a feature that allows you to connect your Instagram comments with Kommo. With this feature, you no longer have to manually check comments on the Instagram app and you can automatically generate leads from the comments!
Comments will be connected automatically once you connect your page to "Instagram messages and stories".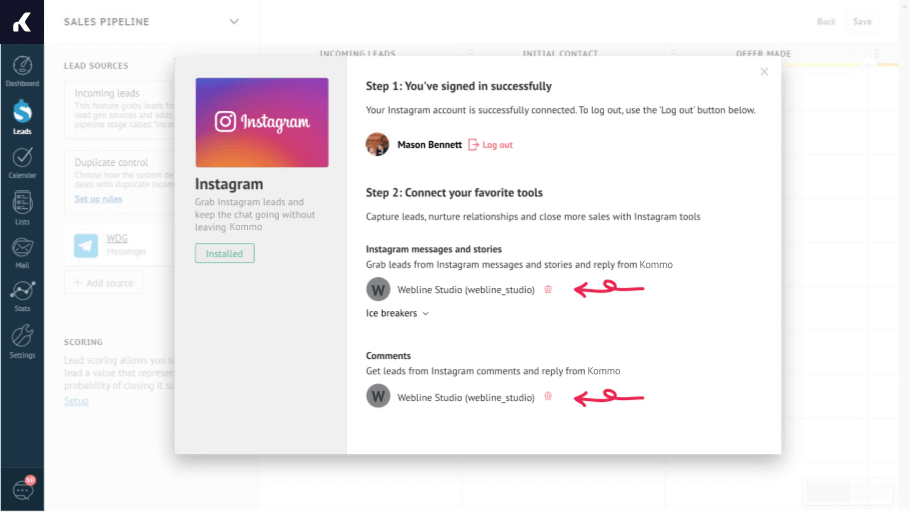 If you would like to disconnect the comments at any time, simply click on the trash can icon next to the connected page.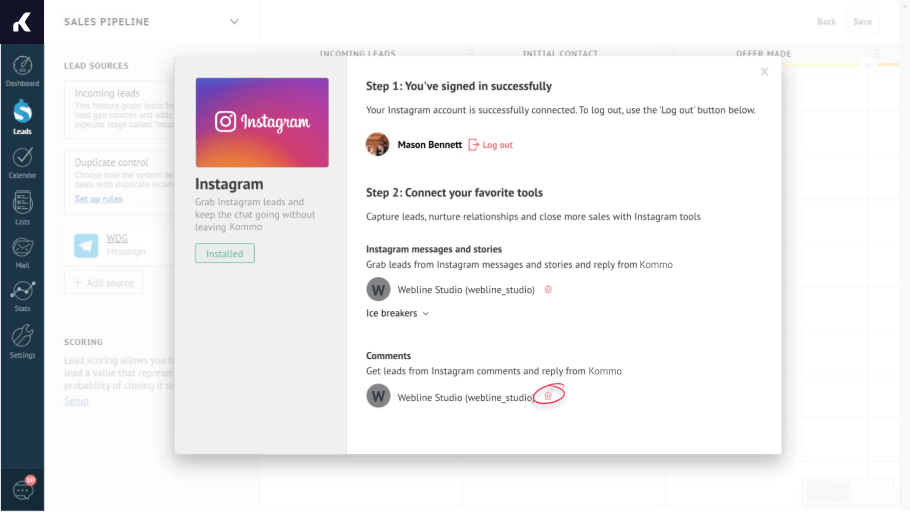 If you decide to keep comments in the Integration, each time one of your posts gets a new one, you will receive a message in Kommo with a link to the commented post – in a new lead card for new clients and in an existing lead card for those you already had a conversation with.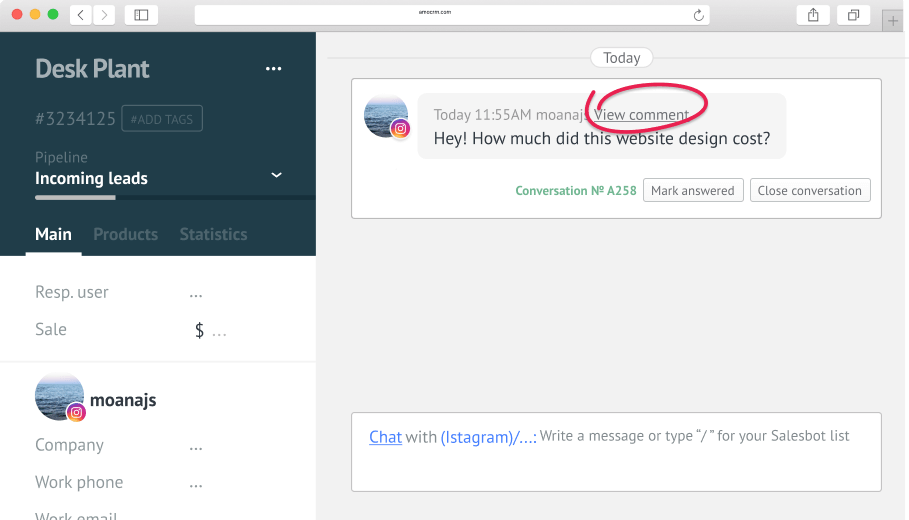 When a comment is received, you are able to respond via comment on Instagram, or send a message directly from Kommo – this way a client will receive a message request in DM.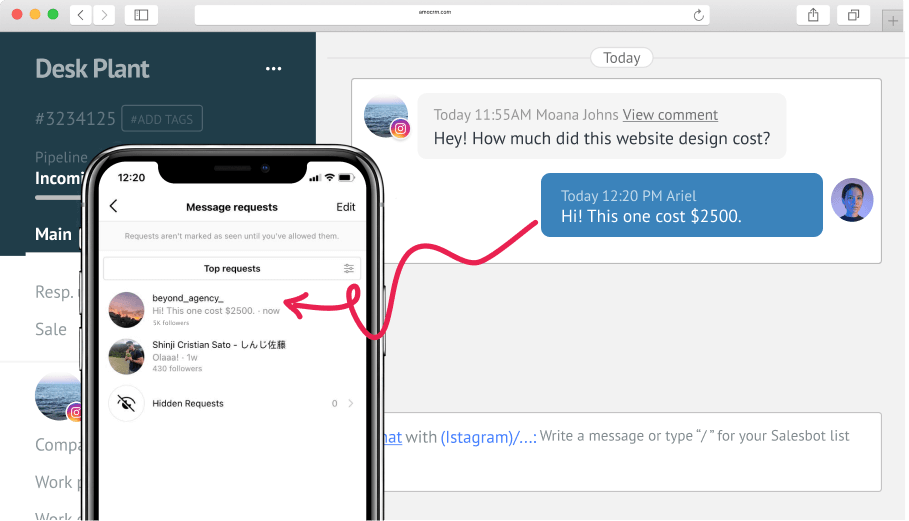 When the lead accepts your message request, their profile photo and name will automatically be synced to Kommo.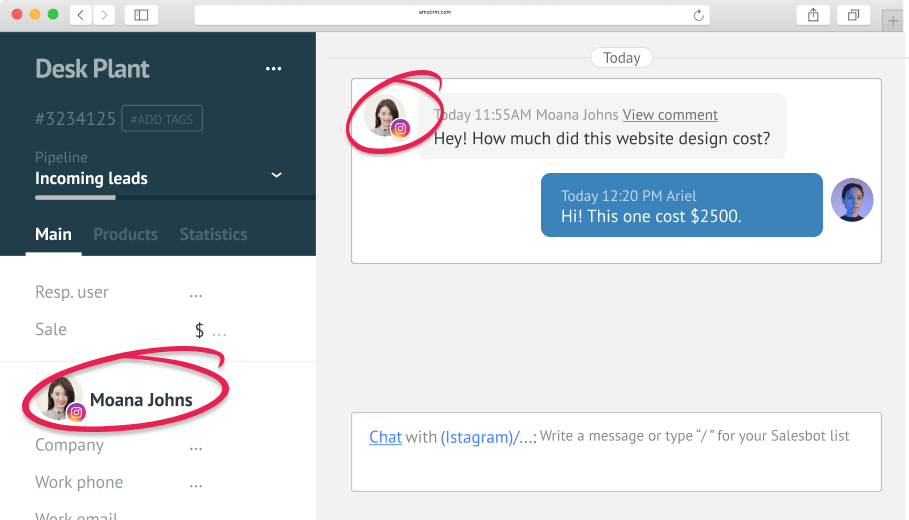 Okay, that's done 🙂 Now let's take a look at the Ice breaker option.
What's an "ice breaker"?
Messenger API for Instagram allows you to show greeting messages to anyone contacting you for the first time. The moment they open the chat with your account, they will see static message buttons. By clicking on one of the options, their selection will be sent as a message, arriving in Kommo as well.
Ice breakers are optional. If you wish to set them up, click on "Ice breakers" in the integration's settings.
You can add up to 4 'Ice breaker' messages no longer than 80 characters each.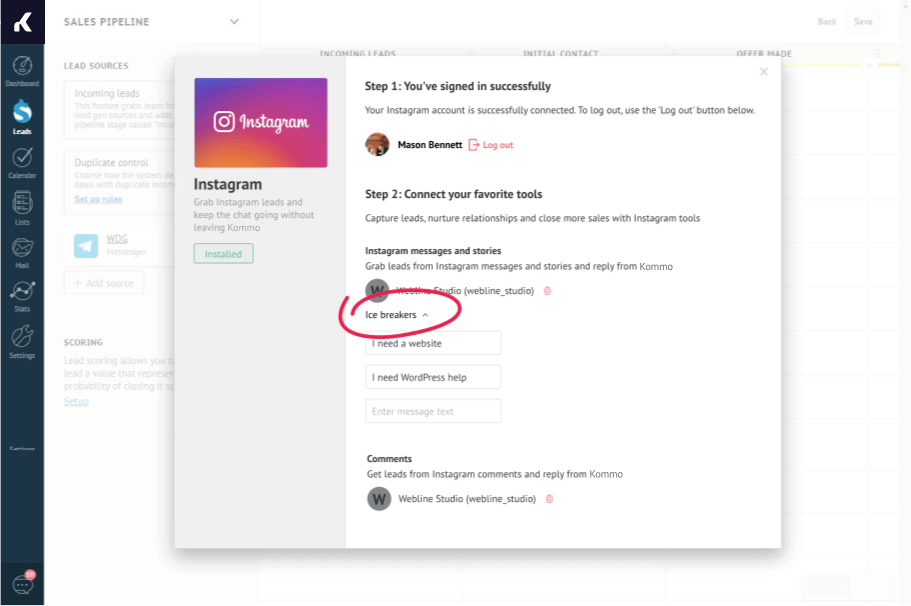 Congrats! The integration setup is now complete.
Using "ice breakers"
A potential customer opens your Instagram business page and clicks the "Message" button. If you've configured welcome messages, here's how they will see your ice breakers: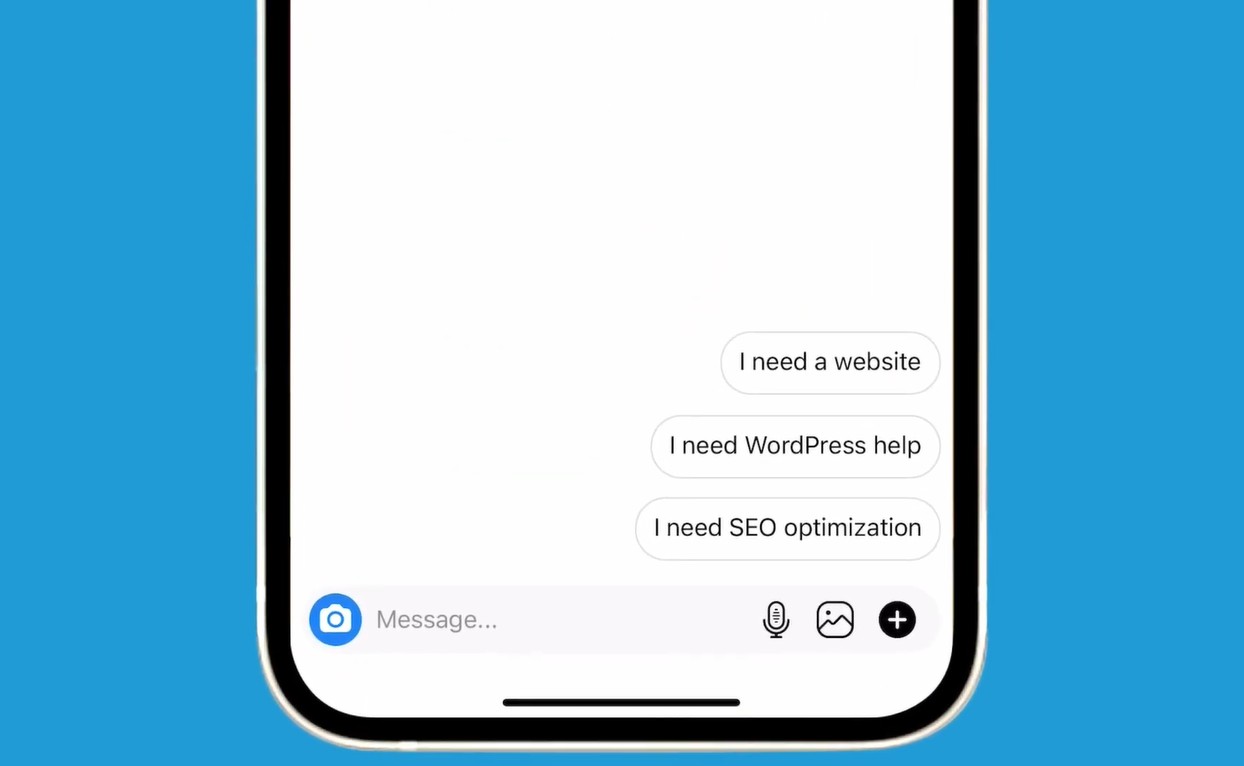 They click one of the buttons, and it will be sent as a message.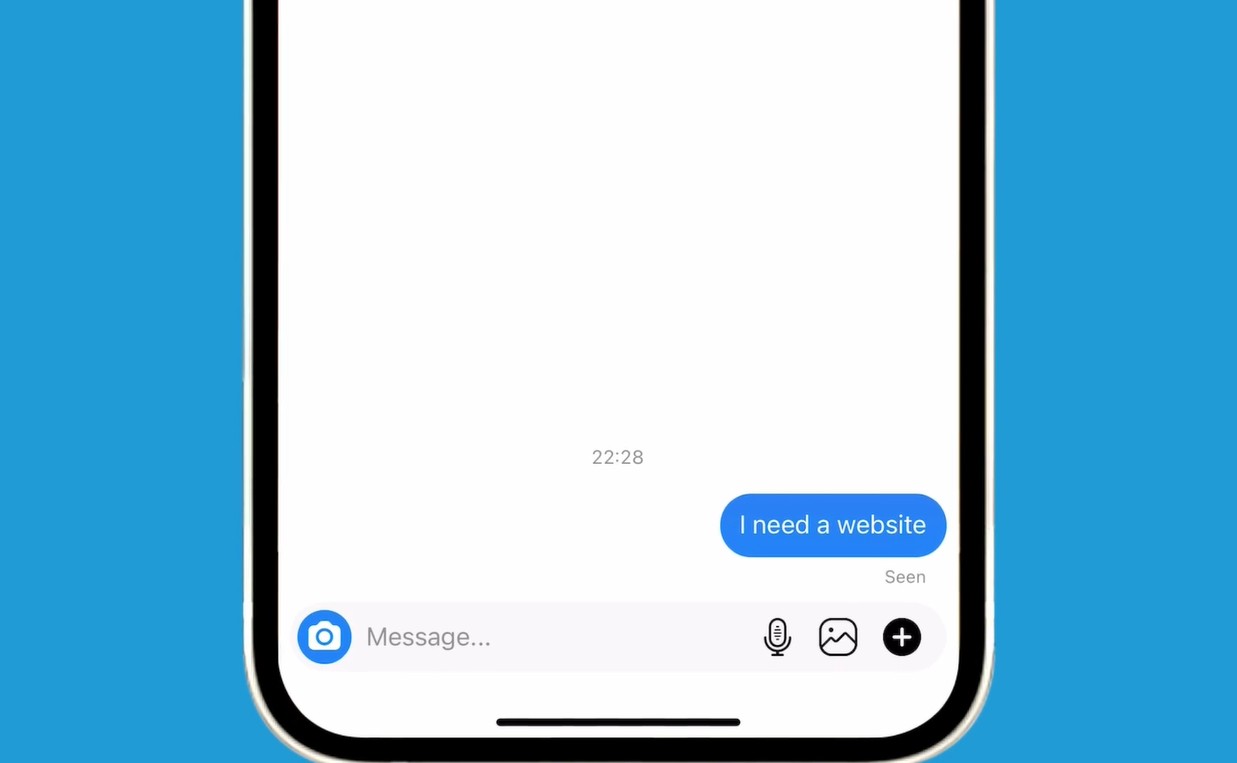 If ice breakers are not set up, they will just message you as normal.
Either way, the message will appear in Kommo where you can reply.
Kommo will receive the client's Instagram name (not the username) and profile picture. Messages sent by you directly in Instagram will be synced into the lead card the same as messages sent via Kommo.
Messaging limitations
According to Facebook's limitations, if a client messaged you more than 24 hours ago, you can only message them using a tag.
Currently, the Messenger API for Instagram supports one tag, 'human_agent'. It will automatically be set in your lead card if between 1 to 7 days have passed since your client's last message.
If a client has messaged you over 7 days ago, you won't be able to reply to them.
At the moment, the integration supports:
Text messages
Images (jpg, gif, png, ico, bmp formats that are less than 8 MB in size)
Stickers (at the moment, the Messenger API for Instagram supports the "like_heart" sticker only)
Reactions to messages (at the moment, the Messenger API for Instagram supports the "love" reaction only)
"Shares" (Instagram image and video share)
Messenger API for Instagram also supports mentions of your company in Instagram Stories.
When the client mentions your account in Instagram Stories, you'll see it right away in the Kommo lead card and you'll be able to reply with a direct message. That way, you won't miss any company mentions.
How do mentions work?
The client posts an Instagram story and mentions your business account: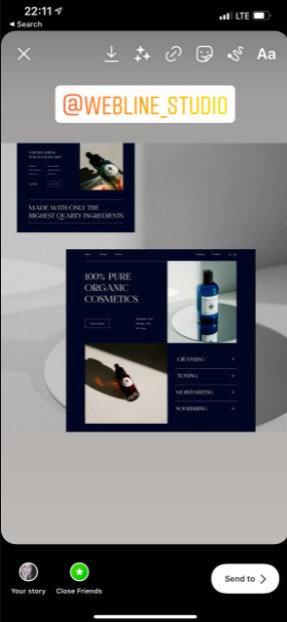 Here's what you will see in Kommo: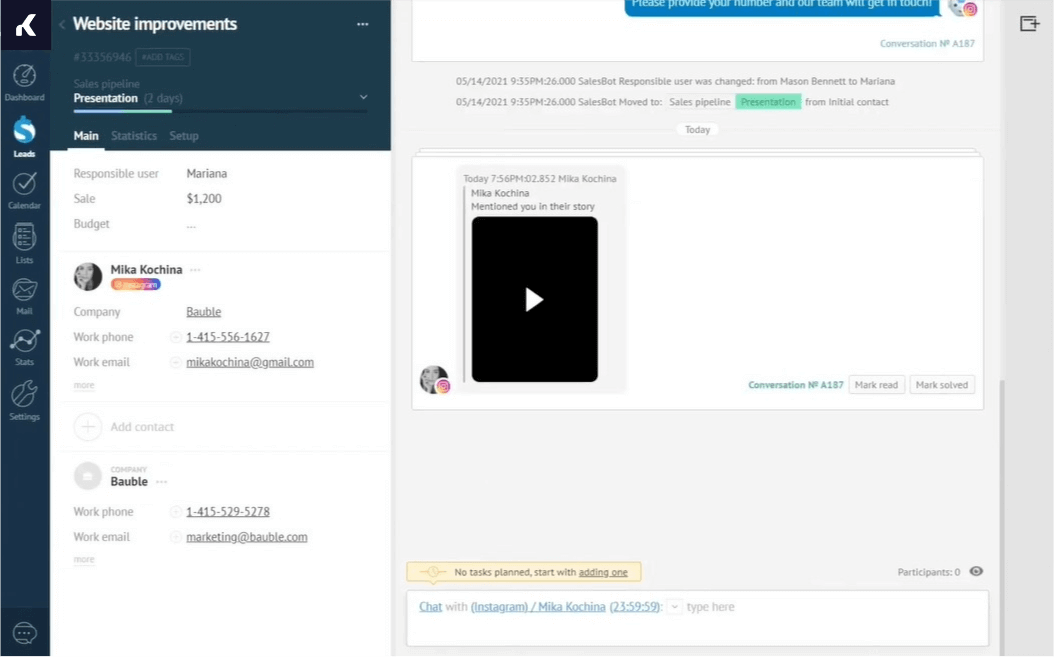 You can click on the Story and watch it: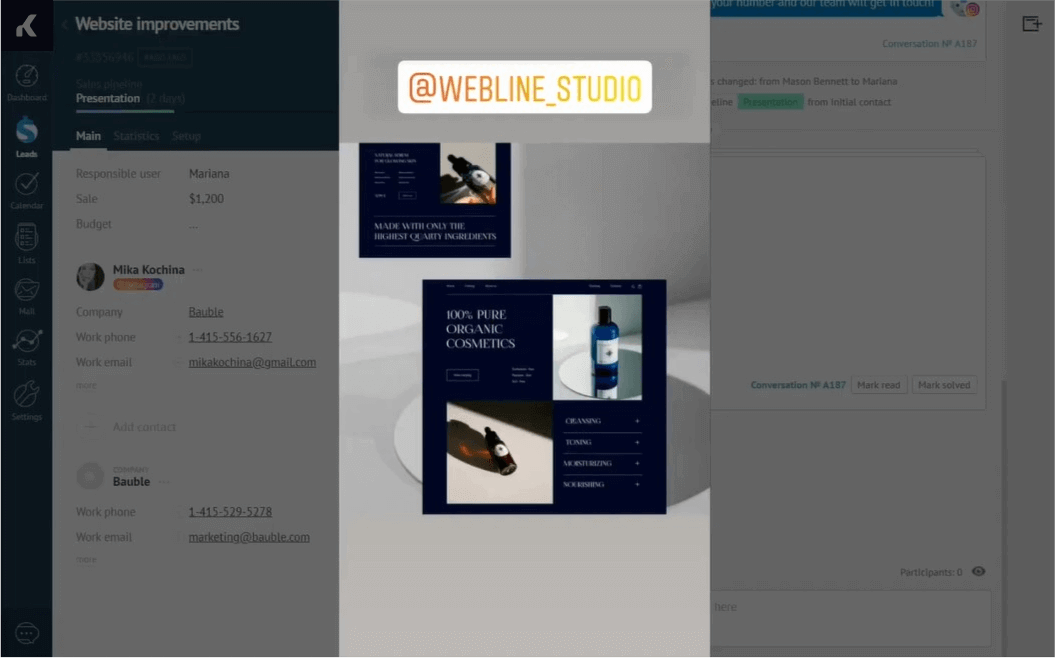 Important note: Just like Instagram, Stories in Kommo are only available to watch for 24 hours or until the author deletes them. If you'll try to open an expired or deleted Story, you'll see the "Instagram Story is no longer available" notification.
Another feature supported by the Messenger API for Instagram is quick-reply buttons.
Quick replies with Instagram
Create messages with quick-reply buttons so your client can reply with a single tap, and you receive the reply as a message in Kommo.
You can set up quick-reply buttons using Salesbot. You can configure up to 13 buttons, each up to 20 characters long.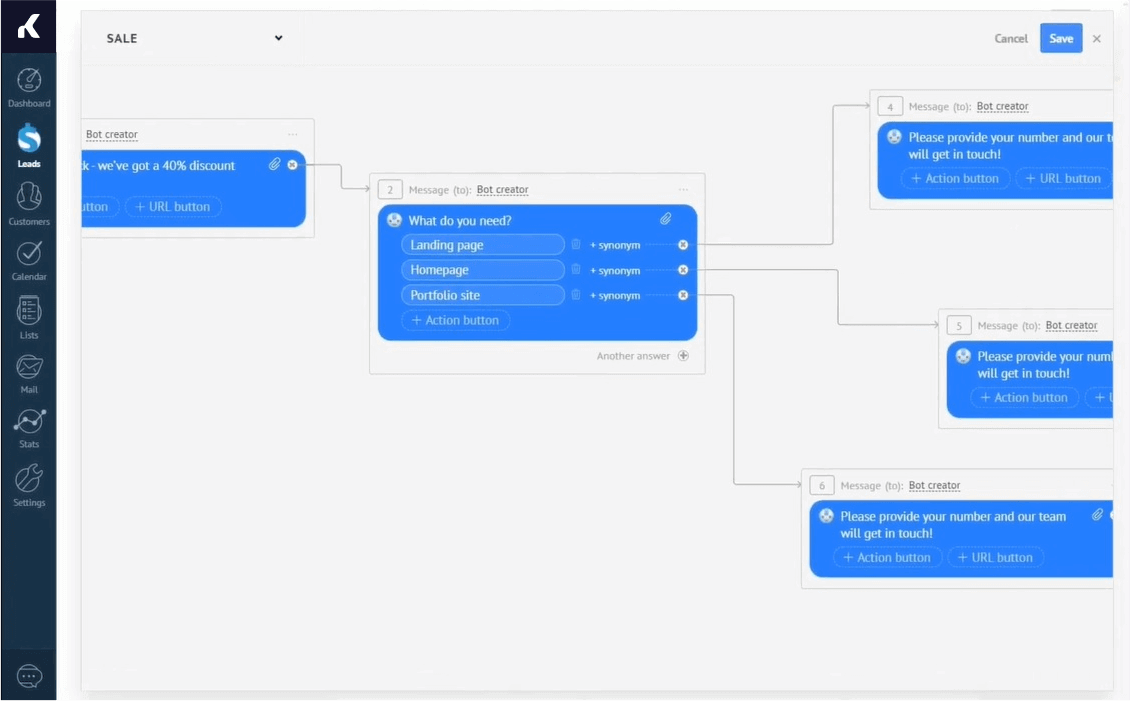 You can visit our Salesbot steps and actions article, to learn more about Salesbot features.
Here's how these messages look to your lead: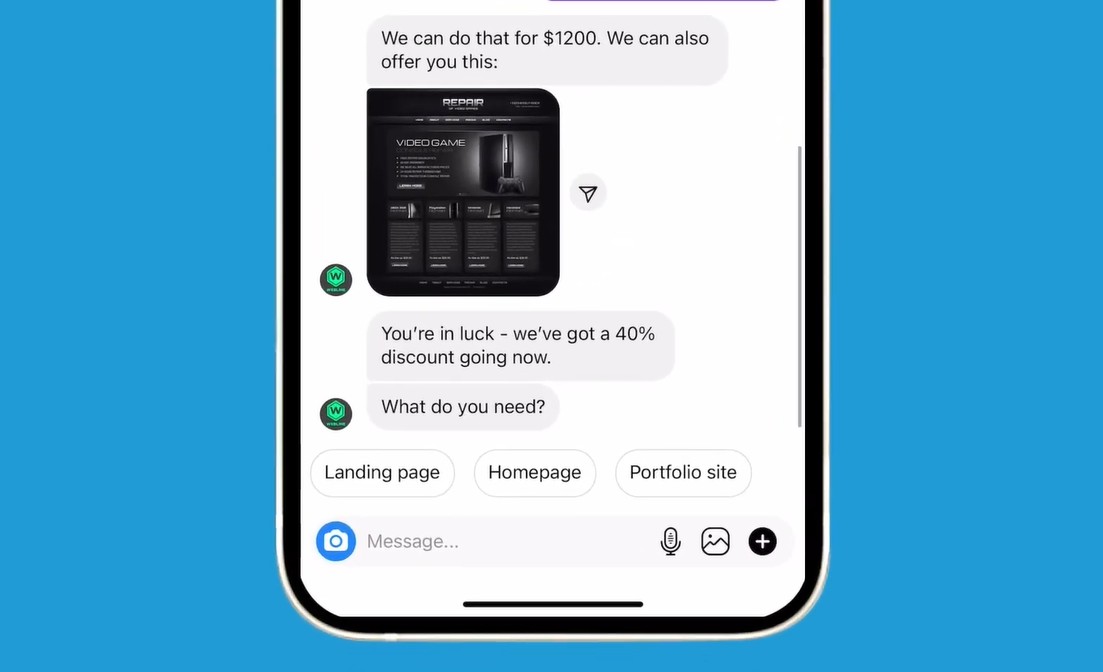 When the lead taps the button, the text will be sent to you as a message in Kommo.
​​Possible problems/solutions
How to add and verify a Facebook email
To add an email, click on the avatar in the top right corner, click Settings & Privacy, then tap Settings.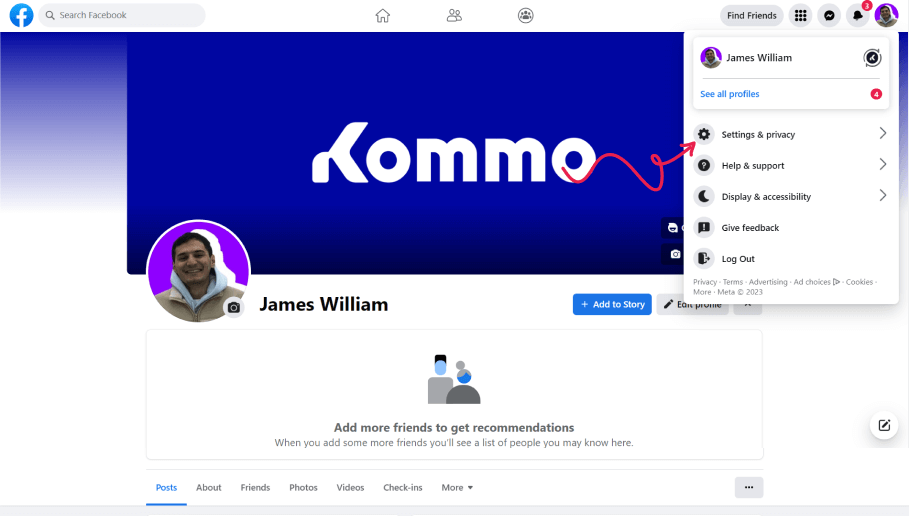 Choose the Meta Accounts Center from the left side and go to Personal details. There you can see your contact information. If you don't see an email there, just click on it and choose to Add a new contact > Add email address and verify it.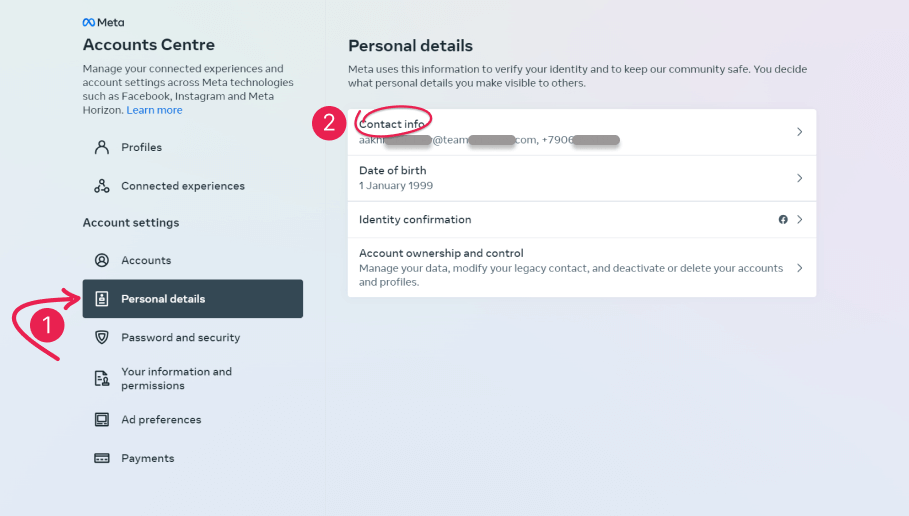 Do not forget to verify your email once added – your Facebook account cannot be connected to Kommo before that.
Need more help in setting up or troubleshooting? Contact us by sending an email to support@kommo.com or write to us on Facebook.
Not a user yet? Visit our tour page or contact us for a demo.