How to invite users
Invite users to your Kommo account to collaborate, assign tasks, monitor activity, and reach targets. To invite your users:
1. Open Kommo's homepage and click on the Log in button in the upper right corner.

2. Log into your Kommo account and once inside it, head over to Settings > Users and click on +Add User in the upper right corner.

3. Fill in the name, email and password fields and assign it to one of the groups. Don't forget to hit Save when you finish.

Below you can also set the user's permissions to create, view, edit, delete, or export info such as leads/customers, contacts, companies, to-dos and the Incoming Leads section of your pipeline. You can decide their level of access and responsibility to the tasks, by adjusting the buttons as the following:
Red (Denied)
Yellow/Orange (If Responsible)
Blue (Team-wide Access)
Green (Allowed)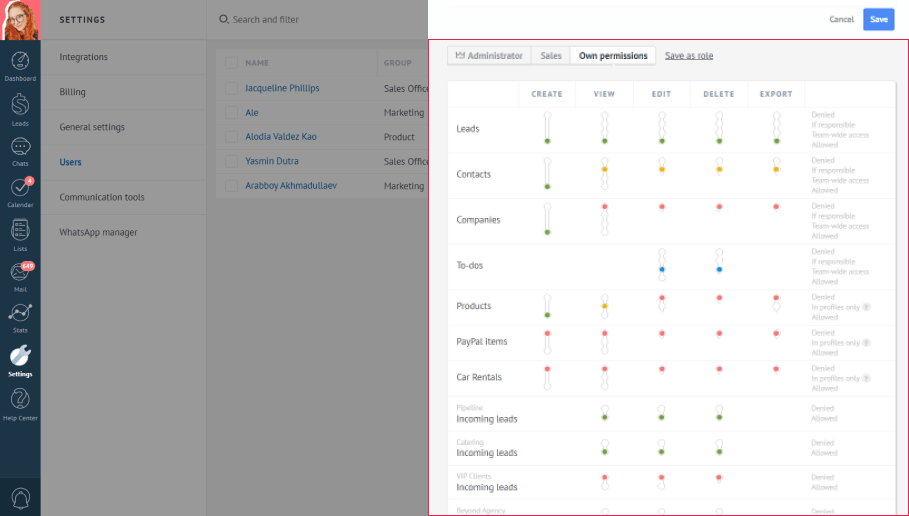 4. To save your settings and invite a team member, hit the Save button in the upper right corner. They'll receive an email invitation with instructions on how to create their account.
And you're ready! Anytime you wish to add or manage your users, you just have to repeat the steps above.
Need more help setting up or troubleshooting? Contact us by sending an email to support@kommo.com or write to us on Facebook.
Not a user yet? Visit our tour page or contact us for a demo.