Marketing bot
Marketing bot 🤖 is designed to help you create long lasting relationships with your current customers and increase customer loyalty.
The sales journey does not end with the first sale and loyal customers are the pillar of any company, and Kommo's Marketing bot will help you create a personalized approach in customer communication.
It can be accessed and edited only in the Customers tab while using the Dynamic segmentation mode. To unlock the Marketing bot you should create a customer segment, you can learn more on how to create customer segments in our article.

A separate marketing bot can be created in every customer segment.
To add a new bot:
Open the customer segment you want to add a bot in
Click on 'Add marketing bot'
Once you enter the editor, the first step is to set up the trigger which activates the bot. It is the first step box marked in green. You can also choose to apply the trigger to customers which are already in the segment.
You are able to select between 9 different start bot triggers.
When an email is received
When a call is received
When a chat message is received
When a form is submitted
Invoice is paid
A purchase is added
When the responsible user is changed
When a customer enters a segment
When a customer exits a segment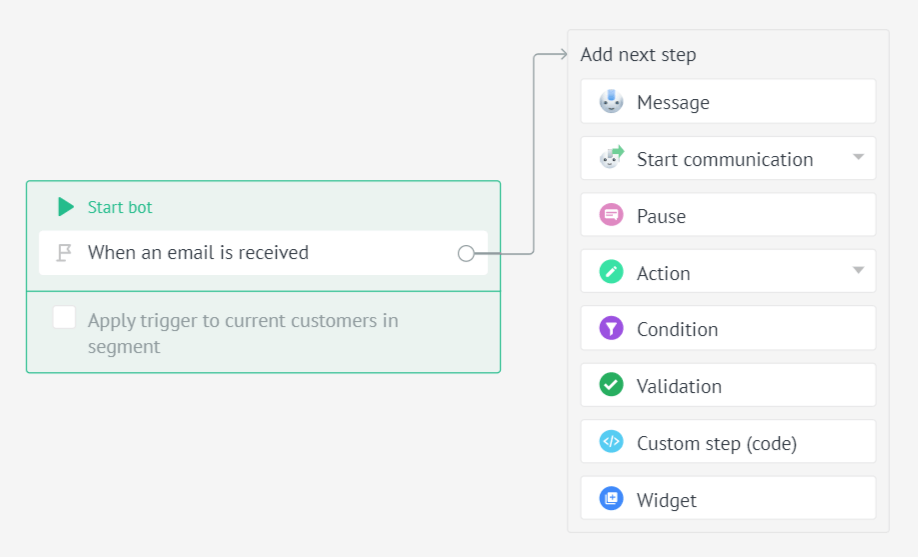 The Marketing bot will help you design the perfect customer communication strategy.
It is capable of:
Sending out messages based on triggers and customer actions
Subscribing customers to newsletters
Subscribing to Facebook and Google Ads campaigns
Sending out invoices to customers through Stripe
Generating loyalty cards
Making changes to the customer card in Kommo
Set up Marketing bots in different customer segments to create a personalized customer approach with targeted messages which will support your marketing and sales process.
Need more help with setting up or troubleshooting? Contact us by sending an email to support@kommo.com or write to us on Facebook.
Not a user yet? Visit our tour page or contact us for a demo.