Write first
A prospecting message (known as a cold message) is a type of outreach for a salesperson to introduce themselves and the benefits of their business. The goal of the message is to convert this initial message into a two-way conversation when the user replies. Prospecting templates should clarify why the user is reaching the client and what to do.
To provide this kind of message, you should mention "Initiate conversation: yes" or "Write first: yes" when registering the chat channel in Kommo. Users can create a lead card and add a contact with an identifier like a phone number to use this functionality. Channels that support this functionality will appear in the Click-To-Call drop-down list.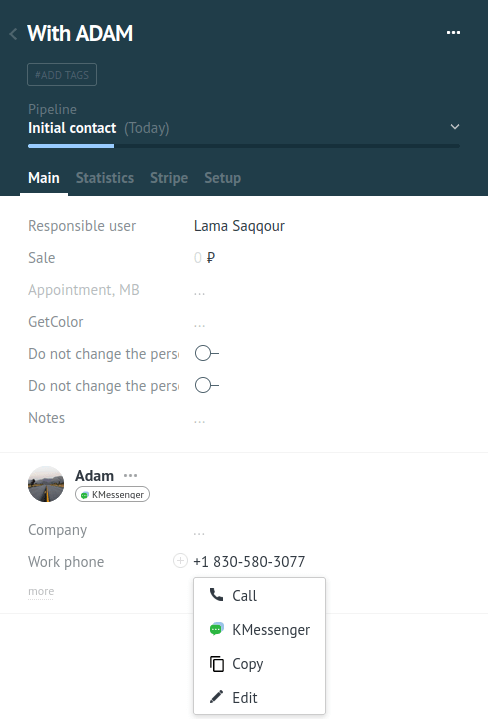 The user selects the chat integration and sends a message through the standard message-writing interface. The message should be according to the chat service rules.

Limitations and rules
Some chat services stipulate the user's explicit sign-up to receive messages from the business by a client action, such as entering a phone number or checking a box to indicate consent. You should make clients aware of the type(s) of messaging they are signing up for.
Also, some chat services require using message templates when a user from the business wants to initiate a conversation with a client to avoid spam and maintain high-quality content.
The limitation on the ability to start a conversation with a client that hasn't sent the user comes from our online chat service; as we previously mentioned, integrators must request this functionality from our support team when registering the chat channel. However, you can send a request if you didn't mention this from the beginning.
Suppose your chat service imposes restrictions on what to send first. In that case, when processing sending a message, it's better to follow the chat service rules from the beginning and provide sending an error message with the details of why the message was not sent. Still, you also can postpone the process till the message reaches the chat service.