Advanced Notification Settings and Scheduled Reports
In Kommo, it is very easy to work with notifications. You can choose to receive them from different channels, schedule them not to get distracted or receive reports to monitor the work of your users.
In this article, you will be learning about:
Notification settings
You can control your notification preferences in your profile. This will allow you to tailor what kind of information you would like to receive and your preferred channels. To access your profile, click on the profile picture in the top left corner of the screen and hit Profile.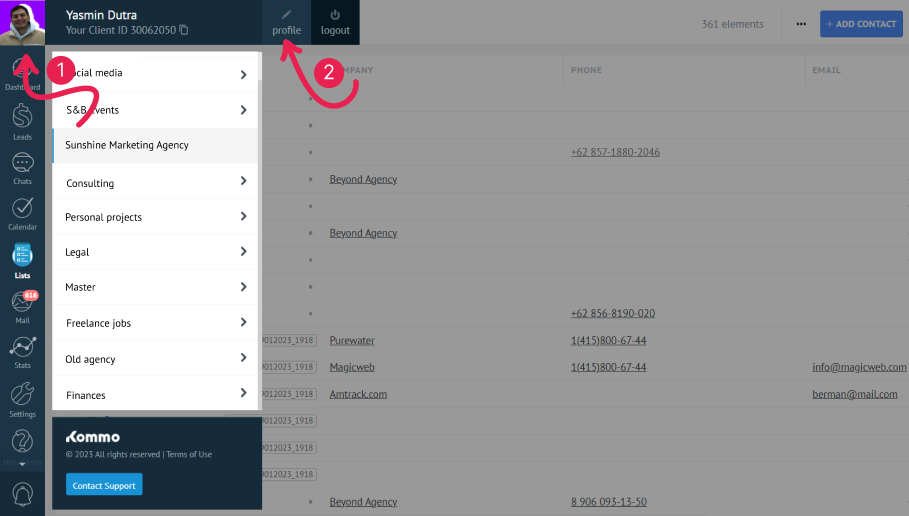 Next, scroll down to the Notification settings. With Kommo, you can receive notifications in several ways depending on your preference. Choose from receiving notifications on your browser while at your desk, through the mobile app if you have it installed or directly to your email.
You can configure notifications for each channel and action individually by just enabling/ disabling the checkboxes.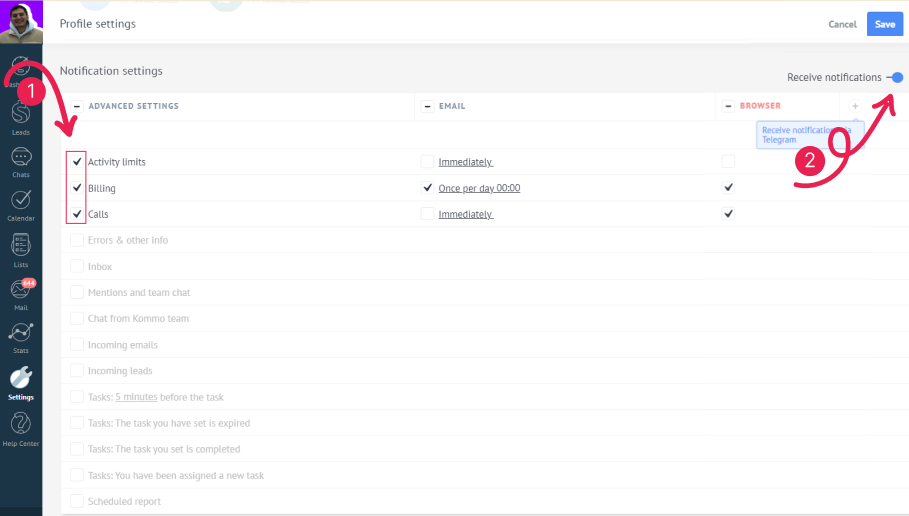 Email notifications
Unlike other channels, email notification has more advanced customization options. You can choose to receive email notifications immediately or at a certain time each day. For example, you can choose to receive your billings notifications every day at 12 pm.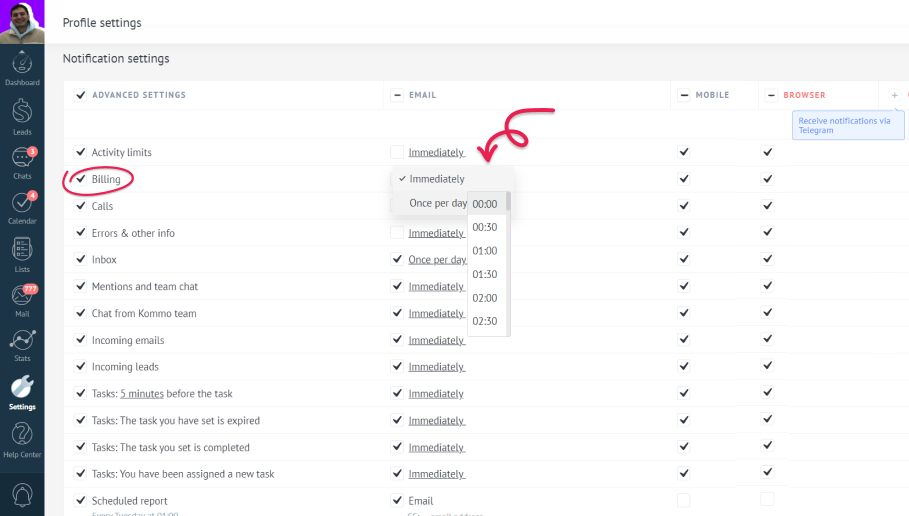 For the 'Mentions and team chat" and "Chat from Kommo team" settings, you have more options. You can choose to receive both read and unread messages or only unread ones at a certain time each day or a or every 15 or 30 minutes, or every hour or four hours.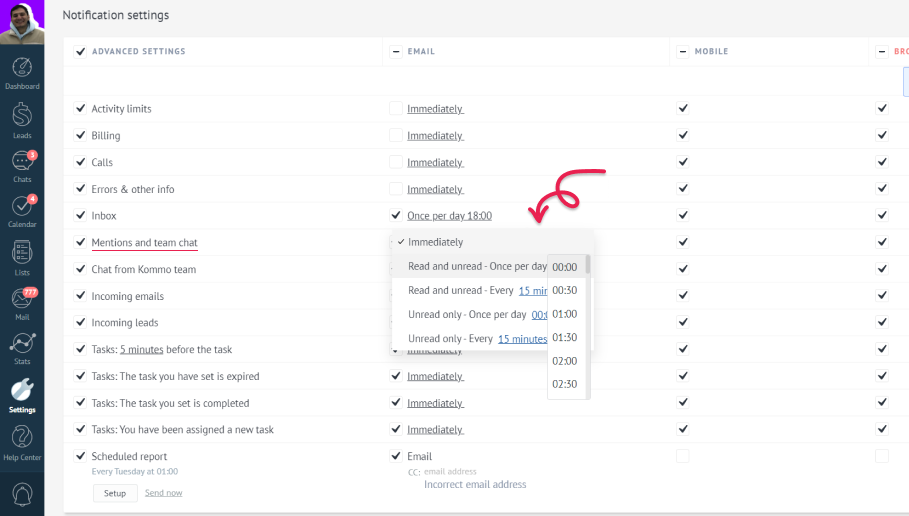 Scheduled reports
You can choose to get scheduled reports about the overall performance of your account. To get them, just check the 'scheduled report' box and hit the 'send now' button. The report will be sent to all selected channels. If you need to send a copy of the report to someone else, paste their email address in the cc field.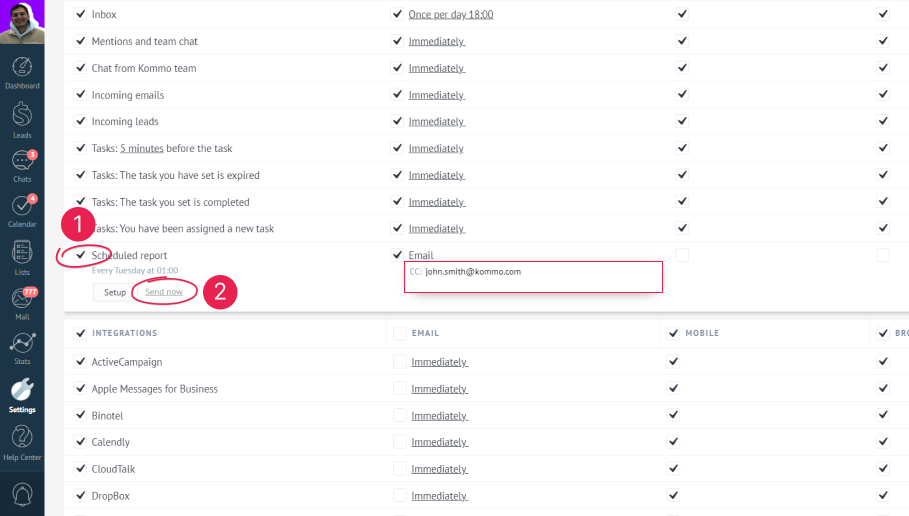 To decide what information should be in your report, click the Setup button to open a new window, and you can choose the time period and the information that will be sent to you. To add a new field to your report, just drag and drop the desired field from the list on the right hand side.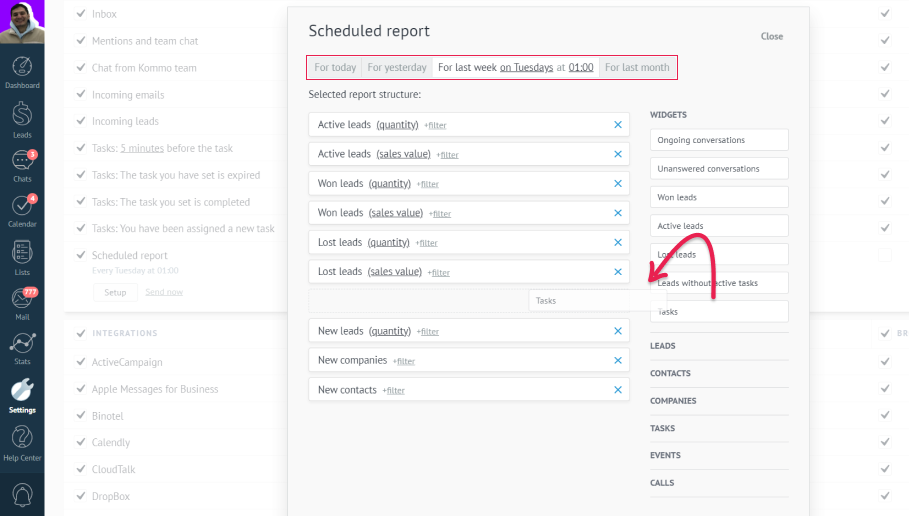 Advanced Settings
Let's discuss each of the notifications:
Activity limits – this option allows you to set limits for users in regards to creating leads or contact lists. If the limits are exceeded, the user will be deactivated and with this checked you will be notified.
Billing – if you select this you will get information about your subscription, for example when your subscription is about to expire.
Calls – this will notify you for all new incoming calls.
Chat messages – with this checked you will receive information about all new chat messages.
Errors & other info – by ticking this option you will get information about errors that happened in your account, for example an automation that has been setup wrong or an email didn't get delivered.
Incoming emails – with this feature enabled, you will get notification of every new email in your inbox of email that is connected to Kommo.
Incoming leads – this option means you will receive notifications of every new incoming lead that arrives in your pipeline.
Stripe – when you select this,you will get a notification about Stripe activity that happens in your account, such as a payment.
Tasks: [time] before the task – utilizing this will allow you to get a notification 5 minutes, 15 minutes, 30 minutes, or 1 hour before the task is due to be completed.
Tasks: The task you have set is expired – choose this option if you would like to receive a notification if the task you've set has expired.
Tasks: The you set is completed – activate this option to get a notification if the task you've set has been completed.
Tasks: You have been assigned a new task – with this enabled you will get a notification if a task has been assigned to you.
Note: A notification will not be sent when you set a new 'to do' task for yourself.
Scheduled report – select this to get an account activity report sent to you via email. Click "setup" to configure the information you would like to receive.
Need more help setting up or troubleshooting? Contact us by sending an email to support@kommo.com or write to us on Facebook.
Not a user yet? Visit our tour page or contact us for a demo.