Aircall: Connecting cloud calling
Aircall is an international cloud calling center software, renowned for its ease of setup, slick user interface and powerful integrations. Integrating Kommo with Aircall is a sure way to boost the productivity of your sales team and concentrate all communication in a single browser tab.
If you don't have an AirCall account, sign up easily.
How to connect Aircall to Kommo
To begin the integration process, follow these steps:
Go to Settings section of your Kommo account, and select Integrations
Under Calling, find Aircall and click the Install button
Enter API ID and API token of your Aircall account
To create an API key and token, go to the Account section of your Aircall account, and select API Keys. Click on Add an API key, name it, and copy paste it to Kommo.
Click the Install button.
After that's done, you should match the users in Kommo with managers in Aircall. Once matched, click Save.
The integration is now successfully installed.
How to use Aircall
If you have connected Aircall successfully, a phone icon will appear in the bottom left corner of your screen when you open a lead card.
Click on the phone number of your contact and click Call to initiate a call. Alternatively, pressing on the phone icon will open a dial pad, where you can dial a number and call it.
Once the call is started, you will see a call duration at the bottom of the page. Pressing on the red dot will pause the call recording, and clicking on the microphone icon will mute your microphone.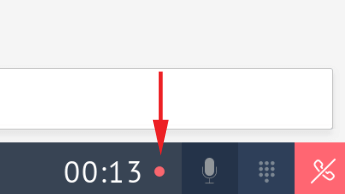 Once the call is finished, a window with the Call result will pop up. In it, you can replay the call recording, and add a note or a task to the lead card.
In case you received a call from a number not attached to a lead or a contact, we recommend you to link it to the contact you received it from. It will be automatically associated with it next time you receive a call from this number.
🏆 Related use cases
Need more help in setting up or troubleshooting? Contact us by sending an email to support@kommo.com or write to us on Facebook.
Not a user yet? Visit our tour page or contact us for a demo.